---
Selecting a Usability Test Topic
One of the first tasks in planning a usability test is selecting the subject (or product) to be tested. It would be of little benefit to test some products, while others would be prime candidates for a usability test. In a corporate setting, the selection of the topic or subject may be dictated by the client, not the usability researcher, yet that choice may be in error. In this class, your own experience should guide you into selecting an appropriate subject.

In a commercial or governmental setting, however, one is not asking the question, "Which product should I test?" Instead, there is a product or system of concern and one asks the question, "When and how should the usability of the product or system be measured and analyzed?"

Clients contact professional usability testing firms and contract with them to prepare a report based on usability testing. There is an example where the Internal Revenue Service wanted to have a usability assessment test performed on it's 1996 Business Master File Telefile Script; look at what they have specified for conducting that test:
http://www.federalregister.gov/articles/1996/06/04/96-13912/submission-for-omb-review-comment-request

Determine the Purpose and Client

Why are you performing this usability test? Whom will it help? What type of information will it provide? What information does a decision maker need from your test in order to make a wise decision?

One of the important first steps is to write a problem statement or research question for your usability test. Please avoid questions that are answered "yes/no" or by a rating e.g., 7.85 on a scale of 1 to 10. They tell us rather little. Instead, think about uncovering actionable information about the usability of a product. But who takes the action?

Determining the "client" for the study can help. Let's say you are doing a usability test of a SmartBoard used in schools. Possible clients include:

Administrators in schools owning the product, to inform them about areas in need of staff training and support
Those considering the purchase of the SmartBoard
The manufacturer's product re-design team

These are three different types of clients, and each one would do something different with the information provided. In fact, it might be that each one would prefer a different set of information from your test. Thus, it is you responsibility to choose a purpose and a client, and to make sure that your test would provide that client with actionable information for the client:

"The purpose of this usability assessment test is to inform the Sony product re-design team of a variety of usability problems encountered in testing the CyberShot, along with the contexts and causes of those problems and recommendations for specific product redesign to alleviate those problems."
---
Usability Testing Non-Computer Products
The discussion in this module uses many examples of usability testing for websites and computer software. However, usability testing is appropriate for a host of products and services that have nothing to do with computers, software, or the Internet. Consumer Reports Magazine and many other publications contain product and service reviews that consider a number of usability factors. Students are welcome to select a product or service for a usability test from a wide range of possibilities, based on personal interest.
---
Examiner's Familiarity with the Product
In order for a usability test to be successful, the developer of the test must be keenly aware of the nuances of the product being tested. Therefore, your selection of a product might be based somewhat on your own familiarity with it; and if you select a product with which you are only marginally familiar, you should become well-versed in using the product before planning the usability test.
---
General Usability Test Procedure
Elements of Usability Testing
Rubin (1994) lists the following elements as typical of usability testing:
Develop problem statements or objectives, not hypotheses.


Use a representative sample of users, not necessarily a random one.


Represent the actual work environment.


Observe (and interrogate) the subjects.


Collect quantitative & qualitative performance & preference measures.


Recommend improvements.

---

For specific concerns related to testing the usability of a website, you may wish to visit (optional reading):

Boling, E. (1996). Usability testing for web sites. Bloomington, IN: Indiana University. Retrieved from
www.indiana.edu/~iirg/ARTICLES/usability/usability.main.html

If any of you are planning to conduct a usability test with children, please first read

Risden, ., & Alexander, . (). Guidelines for usability testing with children. Interactions, 4(5), 9-14. Retrieved from
microsoft.com/usability/UEPostings/p9-hanna.pdf
or from
http://delivery.acm.org/10.1145/270000/264045/p9-hanna.pdf?key1=264045&key2=2847914621&coll=GUIDE&dl=GUIDE&
CFID=74358197&CFTOKEN=22790323
---
During the usability test, the subject will perform some tasks. These are typically specified by the researcher, though the list of tasks could also include some open-ended tasks the user decides to do.

Before developing the list of user tasks, you should be well-acquainted with the technology and its interface. You should have searched for and read critical reviews of the technology, including those from non-academic sources, such as product reviews at amazon.com. You should know what usability problems to expect, but still keep an open mind and remain objective.

In some instances, a usability researcher you might find it helpful to perform a task analysis. In order for you to plan and record data about how the user accomplishes specific physical and psychological tasks, you would perform a preliminary analysis of the tasks that are involved. What are the steps, or sub-steps involved? What actions are involved? Where does the user have to look during each step? Are there multiple paths that could be used? These are just some of the questions you may ask. For a discussion on task analysis in usability research please see:

Mills, S. (2000). The importance of task analysis in usability context analysis - Design for fitness for purpose. Behaviour & Information Technology, 19(1), 57-67. [The full text is available online through EBSCO: http://search.ebscohost.com.proxy.bsu.edu/login.aspx?direct=true&db=aph&AN=3961768&site=ehost-live]

In writing tasks for the user, please think of what the user's goals are. Do not try to write a step-by-step procedure for using the product. You are not a teacher here, but a usability researcher, and the goal is not for a student to learn to use the technology; the goal is to uncover problem in using the technology and explore their causes and possible solutions.
Poor Task Statements
"Turn on the Power Switch. It is the Orange button on the bottom right." (Asking this prevents you from uncovering problems in knowing to turn on the power or locating the switch.)

"Click File, New File." (Again, don't give them step by step instructions. Tell them what the goal is."

"Enter your name and Email address into the boxes on this page." (Don't ask them to reveal personal information.)

"First, read the manual." (If a customer buys this technology, brings it home and unpacks it, there is no one standing there telling them to read the manual.)

"Open AutoCAD and proceed through Tutorial 1." (This would not be a usability test of AutoCAD, but a learning activity involving a tutorial.)

"Use the DeWalt power drill without reading the manual." (Don't ask them to use any dangerous equipment without providing instruction. Let other's perform those particular usability tests; they have better insurance.)
Better Task Statements
"1. Using the SureShot camera, take a photograph. 2. Now get that photograph to your computer and look at it on the screen. 3. Print a copy of the photograph."

"Your first task is to use the school website to find out what is being served for lunch tomorrow."

"Using your Pathfinder watch, determine 1. your altitude above sea level; 2. the current temperature; and 3. the compass heading you are facing."
---
Planning the Test
Here are some tips for planning your usability test:
Keep the number of tasks for the user manageable.


Write the tasks as realistic goals a user would have with this technology rather than as procedural steps.

Make sure the procedure for taking the test is user-friendly.


Write and get feedback on a script that you will follow during the test.


Try to think through different observations you might encounter.


Carefully prepare the test environment.


Carefully select and prepare your subjects.

---

Chapter 5 of The Handbook of Usability Testing by Jeffrey Rubin and Dan Chisnell (2008) is titled, "Developing the Test Plan," and it contains the primary content for this lesson. Rubin's guidelines might seem a bit intimidating because they are intended for corporations with the usability testing resources, rather than students working on one unit of an online class. Please don't feel intimidated.

That chapter has been uploaded to the Assignments area within Blackboard for TDPT 510. It is a Required Reading. Please don't miss the lists of sample performance measures and sample preference measures near the end of this reading.
---
In our class, students likely do not have access to professional usability testing laboratories. There is likely no eye-tracking hardware and software available. But it may be informative to see how they are typically laid out. The following illustrations are of usability laboratories that are specifically designed for computer software evaluation. As you might imagine, a lab to test toddlers' toys would look much different.

---
Examples of Usability Test Environments
Here are some examples of usability test environments (illustrations reside on the Websites indicated).

1. Indiana University Usability Lab Floor Plan - for more information, visit:
http://www.indiana.edu/~usable/usability_lab.html
---

2. Microsoft Usability Lab Layout, from:
http://www.microsoft.com/usability/images/lablayout.jpg
---
3. Mobile usability lab used by Jakob Nielsen, where the user's monitor tends to screen the observers from the user's view. For more, see Nielsen's article (image source): Nielsen, J., (September 10, 2012). Traveling usability lab. Nielsen Norman Group. Retrieved from http://www.nngroup.com/articles/traveling-usability-lab/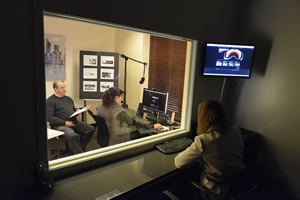 4. A usability lab at TecEd in Ann Arbor, MI, retrieved from http://teced.com/wp-content/uploads/observer_medium1.jpg
---

For a (somewhat dated) article on the results of a 1994 survey of usability labs see the following (optional visit):

Nielsen, J. (1994). Usability laboratories: A 1994 survey. Freemont, CA: Author. Retrieved from www.useit.com/papers/uselabs.html

---
Suggestions for Your Usability Test Environment
The environment you will use to perform a usability test may not have the controls or observation tools shown above. However, you should give attention to your environment, making sure it does not contain unwanted distractions and is conducive to both taking the test, and recording observations. (Is it a comfortable environment?) Multiple tests should be performed in the same environment if possible. You may wish to get feedback from others on the environment you choose prior to conducting your tests.

It is imperative that the environment is planned so the user can be observed, but not inhibited by the observer. For example, if you intend to test more than one person at a time, then you will not be able to adequately observe either; test only one subject at a time. If you are "in the face" of the test subject, then the subject might be thinking more about you and your observations than about using the product.
---
Instrumentation
The written tools used to gather data are typically referred to as instruments. In some instances, a research can use an existing instrument that was previously developed and validated, but only where it is appropriate for the current study. Often, the researcher will develop new instrumentation, such as a pre-test questionnaire, an introductory script, a usability test script, a post-test questionnaire, and an interview sheet, and an observer recording sheet.

Some of the problems with these instruments can be traced back to how the researcher has conceptualized the research problems. Often, if a simplistic research question is used, there is a tendency to make the instrumentation simplistic, resulting in too little meaningful data. However, a researcher who begins with rich research questions, then devises means to uncover rich information will not have this problem.
Most Common Problem:
Not Gathering Enough Meaningful Data
One of the most common problems I see with students' usability assessment test designs is the use of shallow, weak research questions. Please look over the list of research questions you develop, and any questions you have on a post-test or follow-up interview instrument. Look at the following:
Poor research question:
Question: "Will the user be able to turn off the TI-89 graphing calculator?"

Data: 4 of 5 successfully turned off the calculator.

Conclusion: "Yes, most of the users were able to turn off the calculator."
(Image source: http://www.ti.com/calc/graphics/89.jpg)

Action to be Taken by Design Team: None

Reason: Insufficient detail regarding problem
Richer research question:
Question: "What problems are encountered when attempting to turn off the TI-89 calculator, and what are their causes?"

Data:
"Subject 1 first pressed the ON button, then scanned the buttons, then noticed that the yellow OFF label meant she had to press "2nd" first.
Subject 2 pressed the ON button twice, thinking ti would turn off the calculator. He then pressed ON and ENTER. On the third try, he pressed "2nd" and ON.
Subject 3 hesitated at first because she didn't want to erase her calculations by turning the calculator off. But since this was part of the usability test, she turned it off using the correct procedure.
Subject 4 incorrectly thought that the calculator turned off when the cover was replaced, and failed to turn off the calculator.
Subject 5 first pressed "2nd" and "ESC" because the yellow label by "ESC" said "QUIT." When this didn't work, she scanned the key labels, found "OFF" and successfully turned the calculator off.
Follow-up interviews uncovered the following suggestions regarding this issue:

Replace "QUIT" with the label, "CANCEL."
Since OFF does not lose data, rename this "SLEEP."
Have a separate key labeled "OFF."
Don't worry about this. The user will soon learn what to do. And the calculator turns off by itself if idle for a few minutes anyway."
Conclusion/Recommendation: "New users may experience problems in turning the calculator off for the first time, even thinking replacing the cover turns it off. Confusion due to button labeling may account for some errors. Re-labeling "OFF" as "SLEEP" was suggested to indicate data is not lost when the calculator is turned off, but since this is soon realized, the "SLEEP" label may well create additional problems as users search for "OFF," so this relabeling is not recommended. Relabeling "QUIT" as "CANCEL" was suggested, but it is not recommended since the two can be synonymous. A final suggestion was an additional, unique "OFF" button. While this could help the novice turn off the calculator for the first time, it is not recommended because it increases the button count and because of the errors likely when hitting this button by accident. In conclusion, turning the calculator may be initially problematic, but it is not likely to continue to be so, and no design changes are recommended."
Questions on Instruments
Extend this to questions on survey instruments, pre-test questionnaires, and especially follow-up questionnaires. Look at your questions. Do they begin with: Can, Do, Is, To determine if, To determine whether? If you do have a question that is answered by a yes/no, ask yourself if it is rich enough. How could you probe more deeply?

Extend this strategy. If you ask a yes/no, could you ask for counts instead? If you ask for counts, could you ask for different types of counts? If you ask for counts, could you ask for ranks? Could you ask for reasons? Could you seek solutions?

Your job in a usability assessment test is to furnish the client (such as the manufacturer's product redesign team) with analysis of data from your study that uncovers and explores many, many usability issues. It is not uncommon for there to be 30 different usability issues, though many would likely be minor.

If your survey or usability test follow-up questionnaire contains lots of yes/no, true-false, and ranking items, expect the product redesign team to ask, "Well, what was the cause? What exactly were they thinking when they answered this? How should the product design respond to this? Give us something we can use to redesign the interface instead of shallow information that we can't use. Tell us about a lot of minor problems that users have with using the interface, and go into great detail about the major errors and problems. Tell us whether you confirmed the problems by discussing your observations with the test subjects after the tests. Suggest specific changes to the interface to alleviate the problems."

Usability test subjects are a precious resource, and you should use them wisely. Part of the problem I see is that the researcher does not often observe carefully enough, does not record observations, does not probe deeply during a follow-up with each subject, or does not adequately analyze observations. Don't fall into those pitfalls.
Typically during instrumentation development, many sources are consulted, including previous studies. The researcher should have a defensible rationale for choices made during the creation of instruments. Usability should be kept in mind, so the instruments should be as short as possible, very clear, and easy to use.

Validity & Reliability

However, this is not sufficient. An instrument should do what the research claims it will do, and it should do this every time. These two characteristics are validity and reliability. It is typically insufficient for a researcher to merely claim that their newly developed instrument can do something without data to back up that claim. Thus, the draft instrument might be subjected to a number of tests. These can include something as simple as a review by a content expert, or as complex as a statistical analysis if items after a data sample has been collected to compare different items as effective measures. (For example, if Item 3 and Item 8 both gage "technophobia," I would expect them to have similar responses for any individual, and if they do not, there is likely a problem.) But keep in mind that an instrument is not valid in some abstract sense - it is only said to be valid within the context of its particular use. So a questionnaire in Greek that is valid in Greece would not be valid in Mexico.

Pilot Testing

The advice to all is: "Conduct a pilot test." Many problems can be spotted by conducting a pilot test or pilot survey. Commonly, the researcher will find that their interpretation of instrument items is not always the same as the interpretation of a test subject, and here the researcher should not become defensive or to try to explain what was meant, but instead should re-write the item so that it is clear and unambiguous.
---
Following a script improves testing consistency and is a check that specific points are covered. It can be combined with a format that allows the examiner to record observations.

Please visit at least one of the following (any 1 is required):

In these and other web resources, such as the suggestions on writing a usability test script by Cheryl Frost (Frost, C. (n.d.). How to write a usability test script. eHow. Retrieved from http://www.ehow.com/how_4968896_write-usability-test-script.html) you may find some contradictory advice. Be careful. Sometimes there are examples available that should not be followed. For instance, look at the usability test script at http://www.pages.drexel.edu/~sga72/docs/eZMall-%20Usability%20Testing%20prototypes.pdf and find the list of usability tasks. Notice how the user is told to "Select search." Would the user have known to do this without being told? We don't know, and neither does the usability researcher because the tasks for users are too specific, written in terms of user actions rather than user goals. We should not specify, "Select menu," but instead develop tasks that ask users to accomplish a typical objective a user would have with a product, such as, "place an order for a box of chocolates," or "download the pictures you just took into the computer."
---

Tips on the Script and on Testing
Plan to test one participant at a time.


Include an introduction or orientation section of the script, wherein you tell the subject what the purpose of the test is.

Be sure to emphasize that the person is not being tested, the product is what is being tested.


Encourage the subject to "think out loud" during the test so you will be able to somewhat follow their cognitive path.


Test the script on an individual who is not one of your usability test subjects. Revise the script as needed.

In some tests, there would be preliminary documents for participants to read and sign.


In some tests, there would be a pretest questionnaire for participants to fill out.


Do not record unnecessary or inappropriate information about the test subject. Protect their privacy. Do not mention the subject by name in any report.


Do not give them step-by-step instructions on using the product. Although participants may need instructions on what they are to do, try not to include procedural steps on using the technology in your script; that is precisely what you are trying to measure (i.e., how people use it is a dependent variable, not an independent variable.)
Do not give them step-by-step tasks, such as "Step 1, turn on the power." Instead, write tasks in terms of what the typical user might want to accomplish, such as, "Now take a picture with having the camera's flash go off."

If the user gets stuck at one point, you may wish to put the script aside for a moment and help them proceed, but only if that seems to be the last resort. Be sure to record the cause of the problem and the solutions attempted.


Keep your script and your usability test short, with a clearly defined beginning, set of tasks, and end.


Be sure your script is accompanied by a place for the examiner to record observations.


Get the required information from your test subjects. They are precious resources, so make sure you use them wisely.

Do not limit your observations to what the participants say and write. Typically, participants should be observed. For a discussion of this, check out the following (optional):
www.useit.com/alertbox/20010805.html

In some tests, there is a post-test questionnaire for participants to fill out.


Try not to seek yes/no answers. Instead, ask rich questions that require rich answers, and follow-up those questions, as needed.

Conduct a debriefing follow-up with each participant immediately after the test session. During the debriefing, ask about issues that were not evident. Ask questions as needed to make sure your observations and notes are accurate. Ask probing questions that unearth the reasons behind hesitations, mistakes, questions, references to a manual, etc. Find out what the person was thinking and expecting. Ask the subject about possible product improvements to alleviate some problem they might have noticed.

After the test, answer any questions the participant has and thank the participant for taking the test.


Feel free to abandon any of these guidelines if your best judgment leads you away. (Gee, even this one?) You might be asked to explain your reasoning, but you should exercise your own discretion in designing your test.
Most Common Problem:
Not Gathering Enough Meaningful Data, as previously mentioned

It is common for someone performing their first usability test to fail to gather sufficient meaningful data. They might rely too heavily on a questionnaire, for example, and miss some critical observations. They aim to answer yes/no, true/false, or simple ratings questions without uncovering the nature and causes of usability problems in detail. Test subjects are precious resources, and it is critical to gather the information they can provide.
---
Selecting Usability Test Subjects
Be sure you report on how you selected and recruited test subjects, and put them into different categories (if that's what you did.) If you are a teacher, it is not a good idea to select test subjects from among your students. For one thing, they are likely not a diverse group (in age and experiences), and for another, the role of a teacher can be at odds with the role of a usability researcher.

---
Categorize Test Participants Appropriately
Your experimental design may specify the nature of test subjects to be selected. For example, you might be interested in testing how PC users and Macintosh users respond to a certain computer software task. In such cases, you may need to categorize potential test subjects, but only where it is appropriate.

---
Include Users of Diverse Abilities
You may wish to have a heterogeneous group of subjects with respect to the dependent variable. That is, if you are testing a camera, you may wish to include an experienced, professional photographer as well as a person who doesn't normally use a camera in your sample of test subjects.

---
Select End Users
The test should be aimed at the end user of a product or service. This may or may not be the individual who purchases the product. Potential categories of anticipated future end users may also be included.

---
Select an Appropriate Number of Subjects
In a rigorous test, the number of subjects would be determined, in part, by the statistical confidence required. In our class assignment, you may wish to limit the number of test subjects using your best judgment. If you decide to use a single subject, you are making a big mistake. But if you think you should test 50 to 100 participants, think again, and read the advice from Jakob Nielsen at (optional reading):

Nielsen, J. (2000). Why you only need to test with 5 users. Freemont, CA: Author. Retrieved from
www.useit.com/alertbox/20000319.html

Rebuttal: In "Relaxing the homogeneity assumption in usability testing," David A. Caulton makes a case for increasing the number of usability test subjects beyond the few (5?) suggested by Nielsen, especially if we don't assume that all users tend to have the same probability of encountering all usability problems. (optional reading)

Caulton, D. (2001). Relaxing the homogeneity assumption in usability testing. Behaviour & Information Technology, 20(1), 1-7. doi:10.1080/01449290010020648. Available to BSU personnel through http:// search.ebscohost.com.proxy.bsu.edu/login.aspx?direct=true&db=aph&AN=4485852&site=ehost-live

However, I would recommend that students completing usability tests in the span of a few weeks should not feel they must use a large number of subjects, especially if the purpose is to learn how to conduct a usability test.

---
Select a Specific Non-Random Sample
With much experimentation, it is important that test subjects be selected randomly from a population. However, many usability tests are performed on target non-random subpopulations with specific characteristics. Yet, it is possible to have too little subject variability for your purposes as well. For example, if you wanted to know how pre-schoolers interacted with a new toy, and you happen to have three triplets at home, it would be too narrow to limit your sample to this sibling group.

---
Be Nice. Be Ethical.
Please approach the potential test subjects in such a way that they know you are testing product usability, not them. Put them at ease. Tell them their name and relationship to you will not be used in any report. Let them know they can decide to quit at any time, and at the end of the test they can decide to have their data excluded from your test. When working with minors, be sure to consult their parents or guardians and to offer them the same information, rights, and protection.
---
Endnote
A usability test assigned as a class assignment is typically not intended to produce a publishable report in a journal of a professional test of a product. If that were the case, the researcher would have to request approval from their Institutional Review Board (IRB), which oversees the protection of human subjects. Research on animals must also be submitted for prior approval.

If you intend to publish the results of your research in order to inform the field with generalizable knowledge, then your research study comes under the heading of "human subjects research" and typically must be submitted to review by bodies that oversee human subjects research. For more information about human subjects research please visit: